Kalasuri Arisen Ahubudu was one of the best known poets in Sri Lanka. He was born on March 18, 1920, in Malalagama, Koggala, Sri Lanka. His given name was Devundara Deva-manimendra Aryasena Ashubodha; but later on he changed it to Arisen Ahubudu due to his passion for the Sinhala language. His parents were Thoronis Deva-manimendra (father) and Laisohami Wathugedara (mother). He also was a famous writer, scholar, orator, playwright, Sinhala lyricist, author and a teacher in Sri Lanka. Arisen Ahubudu passed away at the age of 92, on May 26, 2011 at 2.09pm.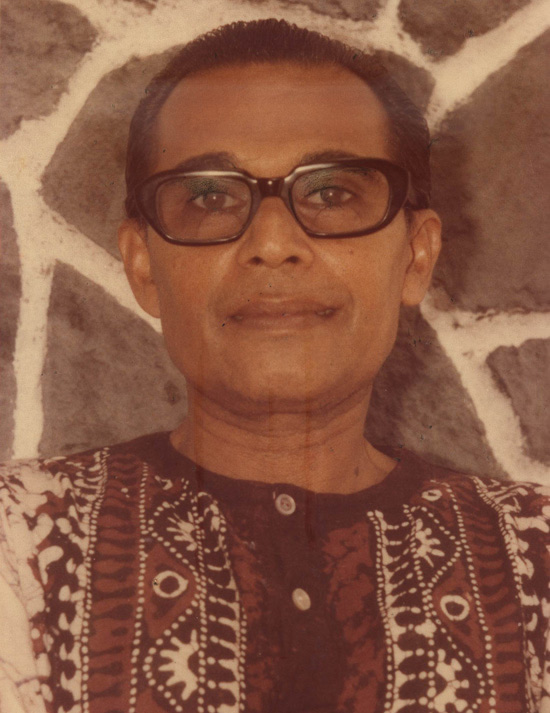 In 1927, Arisen Ahubudu entered the Kataluwa Government School. He left it in 1934, and entered the Habaradoowa Abhayadana College in 1935. In 1939, he entered the Nittambuwa Teachers Training College, and left it as a Trained Teacher in 1942.
In 1984, the Sri Lankan Government awarded Arisen Ahubudu the title "Kalasuri". He was also one of the prominent members of Hela Havula, a famous Sinhala literary association founded by Munidasa Kumaratunga in 1941 to promote the Sinhala language.
Arisen Ahubudu was a specialist of Sinhala language. Before his death people from all around the country used to come to him when they faced a problem with the usage of the Sinhala language. He led and participated in many researches about the birth and the evolution of the Sinhalese language. He was also a specialist in giving definitions to Sinhala words. Ahubudu refused the hypothesis of Sinhala, being born as a mixture of Sanskrit and Pāli, and claimed that Sinhala is one of the oldest – if not the oldest – languages in the world.
Books written by Arisen Ahubudu:
Aduwa – In honor of his friend, Jayantha Weerasekara
Asammataya Raja Vima – A short story collection
Atu Aga Dili Vana Mal
Dam Rasa Dehara
Hadiya – Poems about his grandmother
Hansa Wannama
Hela Derana Vaga – History of Sri Lanka
Kanda Dev Upatha
Kavu Maga – "How to" guide for writing poems
Koggala Pavata – About Koggala (The Sri Lankan Village)
Lanka Gam Nam Vahara
Mangala Kinkini – A song collection
Rasa Nidasuna
Redee Rekawa – The story of destroying the dam of "Ganthala" lake
Seth Wathura – Songs written to worship gods
Siyapatha – A collection of advisory poems
Books about Arisen Ahubudu:
Arisen Ahubudu Harasaraniya (1989)
Pobayana Thunu Ruwana (2006)