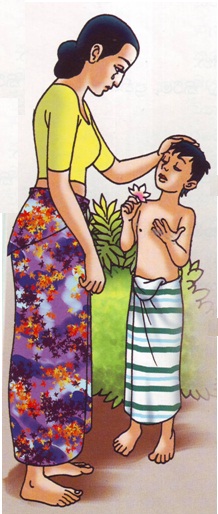 (An English translation of Sagara Palansuriya's poem, "අන්ධ ළමයා" (Andha Lamaya) which is originally written in Sinhala)
They say, flowers are gorgeous and are of lovely shades
The things they speak of as they can see
I don't understand, mother, so here I am to learn
Please explain to me, I don't know these
Except the sweet fragrance of flowers, what is meant by a 'colour'?
Nevertheless, I can also realize that the petals are delicate
Is there something called a 'light'?
Mother, why is it that I can't make sense of these?
I feel the heat during the day more than at night
Is there more of a difference than what I feel?
I can't figure it out, because, they say, I am still a young boy
If so, I ask grievously, will I understand as I grow up?
I can always feel the pleasing softness of the petals
Whenever I caress them with the tips of my fingers
Yet, if there is really a 'colour' in flowers as they say
I am much worried that I can't touch it with my hands
I have never enjoyed the thing that they call 'beauty'
Neither with my nose and ears nor with my tongue and limbs
I wonder why I can't perceive it even when you try to describe
Oh mother, I am so sad that it is too hard to tolerate
Mother, why are you shedding tears?
I can feel them trickling down my arm
Don't cry, mother, don't cry, I was just joking
Shall I rush and come back after hitting the boys who lied to me?
– Sagara Palansuriya (1908-1961)
– Translated by: Indunil Madhusankha
– The Original –
අන්ධ ළමයා
මල් ලස්සනයි හොඳ හොඳ පාටයි කීවා
පෙනෙනවා දකිනවා කියනා ඒවා
මොනවද අම්මෙ මම අහගන්නට ආවා
තෝරා දෙන්න මම දන්නේ නෑ මේවා
මල්වල හොඳ සුවඳ මිස පාටක් කොහෙද
ඒවා මොළොක් බව තේරෙනවා මටද
එළියක් කියා මොකවත් හෙම තියෙනවද
මට තේරුම් ගන්ට අම්මේ බැරි මොකද
උණුසුම දැනේ දහවල මට රැයට වඩා
වෙනසක් හෙම තියෙනවද මෙහි මෙයට වඩා
මට නොදැනෙන්නෙ මා කණ කොලුවෙකිලු කුඩා
ලොකු වෙන කොට දැනේවිද මම අසමි හඬා
ඇඟිලි තුඩට මල් පෙති වල ඇති මෙළෙක
මට දැනෙනවා එය අල්ලන හැම විටෙක
පාට කියා ඇත්නම් ගතියක් මලෙක
අම්මේ අත නොගෑවෙන එක තමයි දුක
ලස්සන කියන දේ නැහැයට වත් කනට
මගේ දිවට හරි මගෙ අත පය වලට
නොදැනෙන්නේ මොකද තෝරා දෙන කලට
ඉවසා ගෙන ඉන්න අම්මේ බැරිය මට
ඇයි අම්මේ අඬන්නේ මේ කඳුලු සලා
මට දැනෙනවා යයි මගෙ අත් දිගට ගලා
නාඬන් අම්මෙ නාඬන් මම විහිළු කළා
එන්නද ගොසින් බොරු කී කොල්ලන්ට තලා
[සුදෝ සුදු]
සිත්තම- කුමුදු තාරක