Serky Mahinda, better known as Tibet Jathika S. Mahinda Himi or S. Mahinda Thero, was born in 1901 in Gangtok, Sikkim, Tibet. He was a Bhikkhu (Buddhist monk) who became a well-known Sri Lankan poet and writer, and did an immense contribution to the independence movement of Ceylon (Sri Lanka). Before becoming a Buddhist monk, his name was Pempa Tendupi Serky Cherin and he lived with his family in Sikkim's capital, Gangtok. He was the youngest son of a family with four brothers. In Sri Lanka he used the alias 'S. Mahinda' which later led everyone to believe that it was his real name. The "S" in his alias is believed to stand for Serky.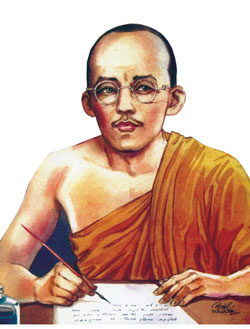 When Serki was about 14 years old he was offered a scholarship to learn about Buddhism in Sri Lanka. According to many sources he arrived to Sri Lanka in 1914. He was accompanied by one of his elder brothers, Sikkim Punnaji, who was also a Buddhist priest. He attained the Buddhist priesthood on the 14th of June 1914. The name "Mahinda" was given to him by Gnanaloka Thero, the German monk who offered him the opportunity to come to Sri Lanka.
S. Mahinda Thero and his brother began to study Buddhism under Gnanaloka Thero in Polgasduwa temple in southern Sri Lanka. There Mahinda was ordained into the Amarapura Nikaya at Shailabimbaramaya in Dodanduwa by Piyaratana Nayake Thero (Chief Monk, Piyaratana). After that he went to the famous Vidyodaya Piriwena in Maradana (Colombo, Sri Lanka). While in Colombo he also entered to a college to study English. Then he came back to Polgasduwa temple to learn Pali and Sinhala languages. On 16th of June 1930 S. Mahinda Thero became re-ordained to Shyamopali Nikaya. Later that same year Mahinda Thero raised Upasampada. Between 1934 and 1936 he worked as one of the teachers in Nalanda College in Colombo.
S. Mahinda Thero was able to become fluent in Sinhala language very quickly, and managed to establish as a renowned Sinhalese poet and writer. He was one of the most active members of the Sri Lankan independence movement. At a time when a British colonial government was ruling Sri Lanka, Mahinda Thero used his Sinhalese writing skills to draw Sri Lankans together to fight against the British rulers to get back their freedom. Because of his work, he was recognized as a national hero after Sri Lanka gained freedom on 1948.
Around 1921 Mahinda Thero wrote his first book 'Ova Muthu Dama'. He has authored more than 40 books. Most of his writings are poems and children's books, which were intended to inspire patriotism of the readers. It is also believed that he has written many unpublished work. In most of his writings, he tried to focus on the former glory of Sri Lanka, and the flaws of its present citizens, and strived to urge them to rise up from their slumber and fight for their freedom. The book 'Sri Pada' is believed to be his final book.
Mahinda Thero passed away on the 16th of May, 1951 when he was about 51 years old.  Some believe that his ashes are kept in a container hanging on the roof top of the Mahabellana temple in Panadura with no proper means of protection.
A short verse from one of the most famous poetry written by Mahinda Thero:

English Translation:
Freedom is like the ocean
And you, dear son, is the fountain of it
Keep that in mind
And try to fulfill the duty of protecting your motherland from various challenges
Poetry written by S. Mahinda Thero
Ada Lak Mawage Puttu
Jathika Thotilla
Kavimuthu
Kawumina
Kumara Maha Vehera Venuma
Kusumaanjalee
Lama Kawu Kalamba
Lanka Matha
Morakola Gangarama Venuma
Nandana Geetha
Nidahasa
Nidahase Dahena
Nidahase Mantharaya
Ova Muthu Dama
Sinhala Jathiya
Videshikayekugen Lak Mawta Namaskarayak
Vil Lihini Sandeshaya
Books Written By S. Mahinda Thero
Asadrusha Jathaka Vivaranaya
Devani Rajasinghe
Maha Parakramabahu
Rahula Kumaraya
Saddharma Maargaya (1, 2, 3, 4)
Sinhala Saddhammopayanaya
Sri Pada
Unpublished books written by S. Mahinda Thero
Dodandoowa Sandeshaya
Mithra Sandeshaya